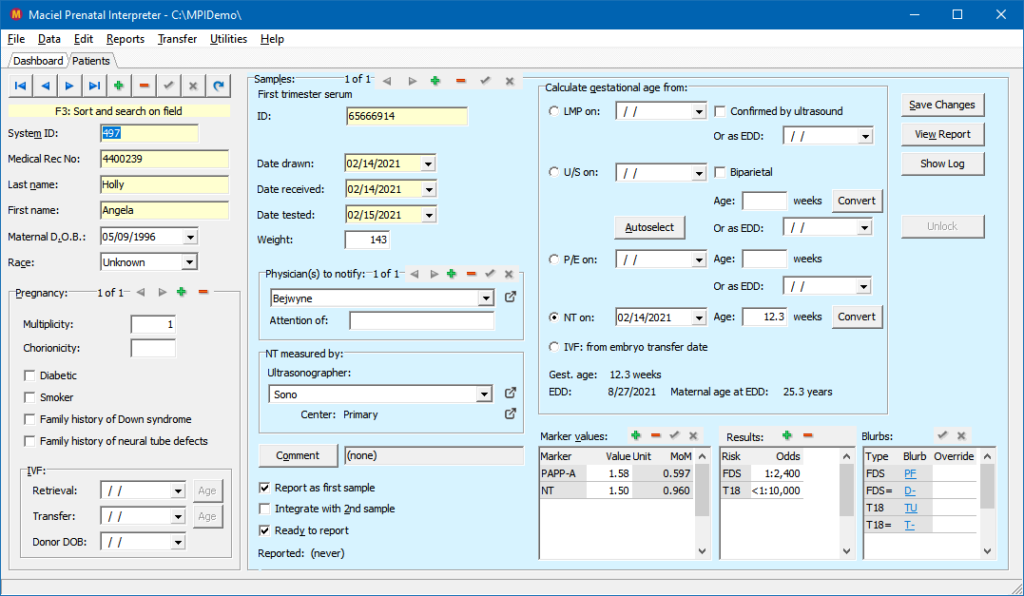 Maciel Prenatal Interpreter (MPI) is a software system for identifying fetuses at risk for open neural tube defects (ONTD), Down Syndrome, trisomy 18, and Smith-Lemli-Opitz Syndrome (SLOS) using established methods.
MPI provides a total management system that allows you to do everything quickly and accurately – your way – using your ID numbers, test units and cutoffs. Ours is the system of choice of over 575 prenatal programs, in more than 35 countries, and a dozen state-run US programs for more than twenty years.
Overview
Flexible and easy to use, with complete online help and detailed error checking
Complete sample accessioning
Identifies fetuses at risk for open neural tube defects (ONTD), Down Syndrome, trisomy 18, trisomy 13, and Smith-Lemli-Opitz Syndrome (SLOS) using established methods with your cutoffs
Supports screening in first and second trimester, integrated screening, and amniotic fluid analysis at any time
Calculates corrected multiples of the median (MoMs) for serum AFP, hCG, uE3, inhibin, ITA/h-hCG, PAPP-A, PlGF, and fluid AFP
Adjusts for ultrasound markers: nuchal translucency (NT), DVPI, and nasal bone present/absent
Freely add comments to samples
Calculates twin risks, combination race code/diabetic/multiple gestation cutoffs
Dated median tables – your past medians stay on file
Gestational age by LMP, physical exam, ultrasound, EDD, or IVF
Racial median tables – each demographic group can have its own table; no need to use correction factors; old tables stay on file
Weight correction for each race code/substance; correction by log-linear or linear-reciprocal
Issues interpretive reports with wording fully under your control, including graphs and color-coding
Print reports to PDF or paper; save modified reports
Offers an extensive menu of reports
Interfaces with most Laboratory Information Systems (LIS)
Calculates raw and regressed medians based on your patient data for each substance
Validation procedure ensures correct operation
Multi-level access and password protection for restricting software use
Weight correction option; generate/check your own weight correction formula in a report
User-Configurable Parameters
Weight correction for all serum markers
Weight correction limits
Daily or weekly medians
Medians based on maternal age to the day or completed years
Many choices of statistical parameter sets for risk calculations
Up to four qualitative levels of AFP MoMs (low, normal, borderline, or elevated)
Sample Accessioning Features
Patient demographics include: birth date, maternal weight, race, insulin-dependent diabetic status, smoking status, history of NTD and FDS, IVF dates
Gestational age: you choose the calculation method to determine age
Sample data: includes date drawn & received, maternal serum or amniotic fluid sample
Plus: patient and physician's name and address, family history and background, follow-up data
Group samples into batches to facilitate multi-user workflow
Interface Features
Data management interfaces enable test results to be entered automatically
Interfaces can automatically correct for diluted samples
LIMS: Laboratory Information Management System – a generic, unidirectional or bi-directional communication for downloading demographics and test requests and uploading results
Deployment options
Store your data where it works for you – on the workstation, network share, or a database server
Database server deployment allows simultaneous data entry from multiple workstations.